All contents of this site are © copyrightBIGCATPRODUCTIONS 1999-2009 (unless otherwise specified). All Rights Reserved. Read Copyrights HERE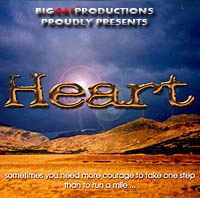 "Look to your heart, that's where the truth is."
- Maggie, Heart
Welcome to the Offical site for the new Australian feature film, "Heart", produced by BIGCATPRODUCTIONS, in association with Incognita Enterprises.
Heart embodies the universal themes of inner faith, self-discovery and the potency of believing in a dream, brought powerfully to the screen in a gripping tale of life, loss and the ultimate triumph of human courage.
Heart - sometimes you need more courage to take one step, than to run a mile.
Heart was featured at the ScreenPlay Melbourne script readings, created to help support Melbourne feature film screenwriters and based at ACMI, Federation Square, Melbourne. Click here to visit the ScreenPlay website for more information.